Dolly Varden
Nevada
The Dolly Varden Project comprises 255 unpatented contiguous lode mining claims located in Elko county, Nevada. Dolly Varden covers a total area of approximately 22km2 and is prospective for gold mineralisation. Dolly Varden is geologically located within the Dolly Varden mountains, on the same continental crust margin as Ecru. The geological framework model for Dolly Varden was developed from historical mapping, geophysical magnetic surveys and rock chip sampling and suggests that Dolly Varden is prospective for shallow, high-grade sheet and stock-work vein gold mineralisation hosted within a granitoid pluton.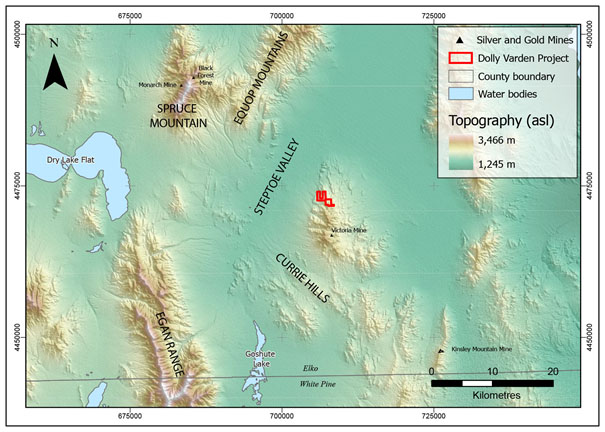 LOCATION & ACCESS
The Dolly Varden Project is centred on latitude 40° 22" 30' N longitude 144° 30" 50' W, and is located approximately 180 km southeast of Elko. Dolly Varden can be accessed from Elko by driving east along Highway 95 and then south along Highway 93 (Great Basin Highway).  Access roads traverse the western part of the claim area. Drive time from Elko is approximately 2.5 hours.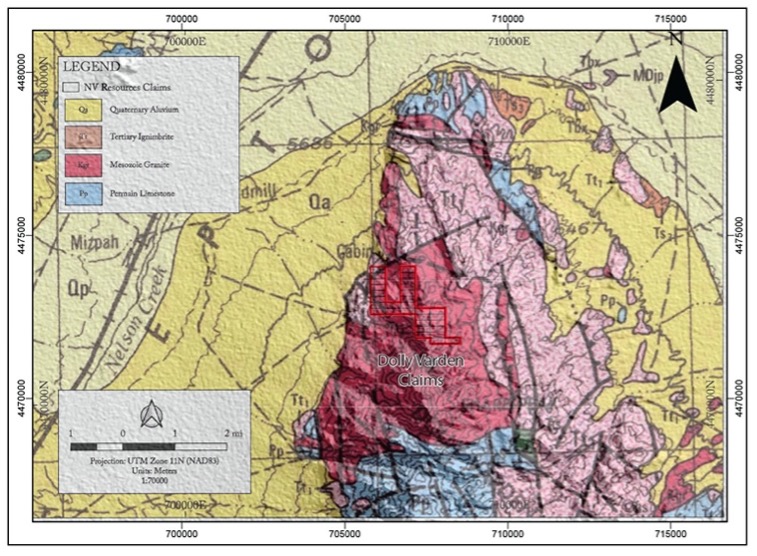 Dolly Varden Project Location
HISTORICAL EXPLORATION
While there has been limited modern exploration, historical geochemical surface sampling has demonstrated widespread alteration (sericite-illite) over several hundred metres. The zone forms a northwest-trending band of gold-copper-bismuth mineralisation.
Mineralisation is associated with quartz veins and hematite stained chalcedonic and magnetic breccias that intersect the granite pluton. Specifically, breccia mineralisation occurs at the margins of the pluton, hosting gold-bismuth quartz vein stockworks and sheeted veins with local disseminated pyrite and variable hematite and geothite.
Relatively coarse reduced to pole (RTP) magnetics covers the project area. The RTP magnetics identify the north-west striking zone of mineralisation and suggest that the mineralised system has a strike length of over 4km and is variable in width from 50 to 200m.
In 2010, 72 rock chip samples were collected under a joint venture agreement between Encore Renaissance Resources and the Kokanee Placer company. An additional 12 rock chip samples were collected by Newmont Corporation as part of its Great Basin Sampling Project. Many of the high elevated gold values correspond with zones of structurally controlled brecciation that exhibit a moderate to strong geochemical response in bismuth.
In September 2020, the project vendors conducted a rock chip sampling program at Dolly Varden that delivered encouraging results. Moneghetti submitted 20 rock chip samples, that the project vendors sampled, to ALS Laboratories in Reno for 50-element Aqua Regia Inductively Coupled Plasma (ICP) Spectroscopy and Gold Fire Assaying, resulting in grades up to 21g/t Au in one sample and three samples assayed 4g/t Au.
Moneghetti is currently undertaking QA/QC checks on the data and will formally report these results in accordance with the guidelines of the JORC Code (2012 Edition) when appropriate.
DISCLAIMER
As of 26 January 2022, the project vendors provided the Company notice of a dispute in regards to the obligations of the first earn-in milestone and allege that the agreement for the Dolly Varden has terminated. The Company plans to fully defend its rights to the Dolly Varden Project and is pursuing dispute resolution as provided for under the agreement with the project vendors. Moneghetti will keep shareholders and investors fully informed as it aims to reach a resolution and continues to review opportunities for project acquisitions in the area.